Google and NAR had collaborated to uncover trends and insights around digital media usage among home shoppers, whether they are looking to buy, rent and sell real estate.
The articles below summarized the key findings of this research between Google and NAR
Consumers are going online at a rapid pace to look for information to support their buying decisions
Google calls this idea ZMOT, or the Zero Moment of Truth*; the idea that shopping is no longer about showing up in a store, or in our cases at a brokers' office or an open house, seeking advice or counsel on what to buy or how much they should pay
In today's complex, rapidly changing, and digitally driven media environment, capturing a home shopper's attention in order to build a real estate business and personal REALTOR brand is tougher than ever
90% of home buyers searched online during their home buying process
Real estate related searches on Google.com have grown 253% over the past 4 years, 36% of new home shoppers utilize a mobile device while they are watching TV
Home shoppers using search engines are actively engaged, raising their hands asking for more information or assistance. Hence we need interactive and stunning websites. A chatbot or livechat solution will be awesome
Real estate consumers who use the internet while researching a home are more likely to use multiple sources: hence having your listing on realestate.ca, social media sites and your own MLS enabled website is so important!
89% of new home shoppers use a mobile search engine at the onset and throughout their research. Hence a mobile responsive website is key, to ensure your listing are capturing viewer attention both on desktop and mobile devices.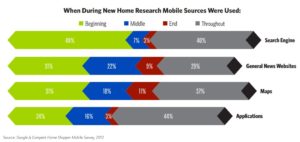 Typical Home Buyers Take 3 months to Buy, but Engage with Agents Earlier in the Process
Home Shoppers Rely on Agents and Open Houses to Bring Their Online Research Into the Real World
First-time Buyers Continue to Turn Digital to Inform Their Research
New and Existing Home Shoppers Both Rely on Digital While Researching
Senior Housing Shoppers Turn to the Internet to Aid Their Research
Vacation Shoppers Flock to the Web to Help Them Find the Perfect Second Home
For the full report: please refer to here: https://www.nar.realtor/sites/default/files/documents/Study-Digital-House-Hunt-2013-01_1.pdf